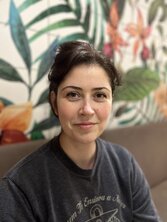 Lyudmyla Guryryeva
I'm an educator, a facilitator, and a perpetual learner.
With about 20 years of experience in education, I keep searching for new ways of mixing methods and tools to inspire learners' creativity, develop an interdisciplinary approach to learning languages, and help discover students' untapped opportunities, passions and interests.
My academic background includes a Master's degree in Translation and Interpreting and a PhD in Education. 
I volunteered for Global Action Plan as a sustainability enthusiast. 
I'm happy to be a part of the Legacy17 crowd, making a difference and promoting transformative learning.