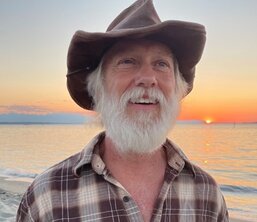 Daniel Kirkpatrick
Daniel is an energetic and playful leader whose work as a consultant, coach, public speaker, and writer is informed by a deep connection to the natural world, a background as a martial artist, and a wildly creative and adventurous approach to life.
Daniel is a student of the global metacrisis, and in both professional work and activism he seeks to address the systemic roots of separation – between people as well as between humans and nature.
Daniel lives in Coast Salish territory on the US-Canada border. A lifelong educator, he co-
founded an experiential high school in the 1990s and has run educational programs around the world. He is committed to fostering change through integral consciousness and works as a climate justice and Indigenous rights activist. Daniel's passions include woodcarving, martial arts, playing music, skiing, paragliding, and rambling wildly through the woods.